General Show Promotion
At Biotechnology Calendar, Inc. we promote our shows heavily throughout the target community of the event, through the use of electronic media, print media, and even face to face lab to lab on site promotion. The amount of time we spend going door to door on campus varies from a low of 35 hours to upwards of 80 hours. One of our event planners mentioned recently that she wore her pedometer on campus and tracked 26.5 miles in the publicity process alone in the week she measured it. This was a recent San Diego event, and she was one of two people working on publicity for the show that week. This is normal for us, and this is how we bring crowds to the exhibit floor.
This heavy publicity effort benefits both the turnout of the event and the individual booth turnout for the exhibitors participating in the event. When meeting researchers in their labs, it is not unusual for us to see the researchers in the lab gather around a flier, and together go over the list of companies that are coming, so they can see "if" they want to go and "who" they would want to talk with.
Let's go over some frequently asked questions about our publicity and promotion processes.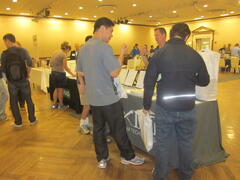 What does General Show Promotion mean? It means we distribute printed invitations and email invitations, as well as posters on campus prior to the show. There are two rounds of that print publicity produced and distributed throughout the target market: the first round occurring approximately 5 to 6 weeks prior to show, and the second round encompassing the week of the show.
Multiple rounds of print and electronic publicity during the extended time period prior to the show.
Communication with specific targeted contacts at the show site to promote the events.
Show specific web pages, generated and distributed to target community - well in advance of show.
Show specific web pages generated and distributed to target community for the week of show.
Social networking including Facebook, Linked in, Twitter and Pinterest outbound publicity in the months prior to the show.
Electronic invitations to your target audience, prior attendees, and local life science professionals
Lab to lab and face to face discussion and invitation distribution throughout the institution where the show is being held.
Frequently asked questions:
What do I get? You get your company name listed on all of the hand delivered invitations, posters and email invitations, as well as on the websites for no additional charge. if you want you company name listed in bold, or if you want direct links to your site there is an additional charge to your company.
What is and is not included? Your company name will be included as attending the show and will be on all the publicity so researchers know you are coming. This is a tremendous advantage that our shows offer, since what drives the researcher to the event is often knowing who will be there and what products are being offered. For general publicity we include the date, location and time, what food will be provided, what seminars will be occurring. We also provide a list of the door prizes available to the researcher from the event organizer and from the exhibitors. If you company is planning a giveaway or high end promotion, please be sure to let us know and we will advertise it for you for no additional charge, Not included with the pre-show general announcement are extended company descriptions, specific company logos (unless they are sponsoring all or some part of the event) or individual advertisements for the companies.

How does our general publicity benefit exhibiting lab supply companies? General event promotion programs give exhibitors brand recognition on campus so the researchers know that they will be there at the show and will expect them. This builds the exhibitor reputation as accessible and easy to do business with. Seeing an exhibitors name frequently also builds researcher trust in that company. Having a presence before, during and after the show means exhibitors have an ongoing presence on campus for an extended presence and reminds the research audience about the company when they are ordering supplies.

How does general publicity and the company list benefit local science researchers? It's good for researchers because they will know what companies are going be there so they can make a note of which companies are most likely to be able to provide them with the products and answers they need. Researchers become aware of seminars that would be of interest to them and decide if they want to attend them. When researchers can see what door prizes, catering and fun perks are available at the event, it generates buzz and enthusiasm for the prospect of the event, totally outside of the professional science interest they have in the lab products and provides an additional reason to attend.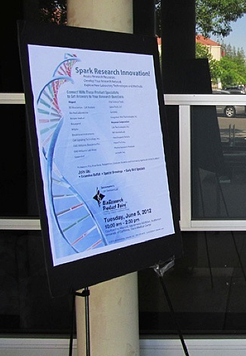 How does this item differ for Basic vs. Premium? The only difference is for the premium exhibitor. A premium exhibitor will have their company name listed in bold - this really helps the company name stand out amongst the other companies.

What is the estimated value of this item? This service is actually priceless - for a lab supply company to announce their participation in an upcoming event in this manner would cost thousands of dollars, especially when graphic design, purchasing lead list and ad space and generating an internet presence are considered. Consider again this is multiple rounds of publicity, multiple media sources, face to face broadcast and hand distribution of event announcements with you company name included, on line pre-registration opportunities for attendees and strategic contacts that help promote the events internally in every market. We conservatively value this service at $2000- $5000 for each exhibiting company, depending on the research population, market value, size and geographic location of the market being served.
We look forward to helping you promote your brand and gain company recognition at your next Biotechnology Calendar, Inc. show!