Extensive Buffets
At Biotechnology Calendar, Inc. events, we provide extensive buffet style refreshments to our lab research audiences and to the lab suppliers that come to demonstrate their products for our top research audiences.
Included are breakfast items, such as warm bagels with cream cheese, moist baked muffins and fresh sliced fruit; lunch items, such as gourmet sandwiches, and hot savory pizza; dessert items, such as melt in your mouth cookies, chocolate chewy brownies and cake; hot beverages, such as coffee and juice, and iced beverages such a lemon tea and fresh fruit juices.
Researchers can come on their coffee or lunch break to test new products, see new technologies, and enjoy a light breakfast, quality snack, full blown lunch, or rich desert.
Our catering investment at each event helps drive traffic from the research buildings on campus to the event floor. Once the researchers are at the event, they can address the questions they have about the new systems, processes and products available.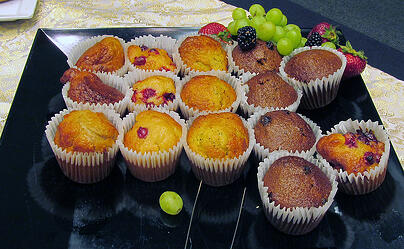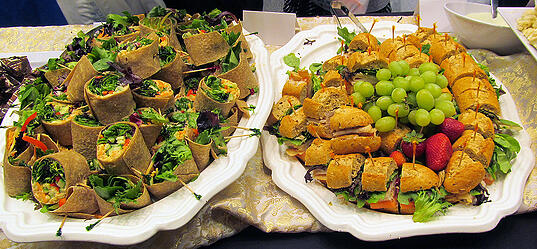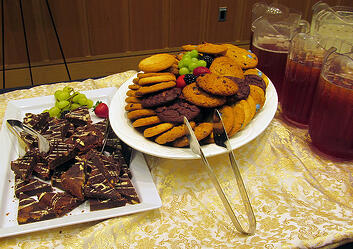 How does this item differ for Biotechnology Vendor Showcase™ (BVS), BioResearch Product Faire™ (BRPF), Front Line Events™ series? Front Line shows are shorter so we only do the lunch portion of the catering.
What does it take for us to provide this item for the exhibitors/what do we do to make this happen? We pre-arrange everything; we know the times when the order should come, exactly how much to order, and what attendees like on that campus. Each year we take note of the items that go especially fast and the ones that don't and we incorporate that into the next year's food selection.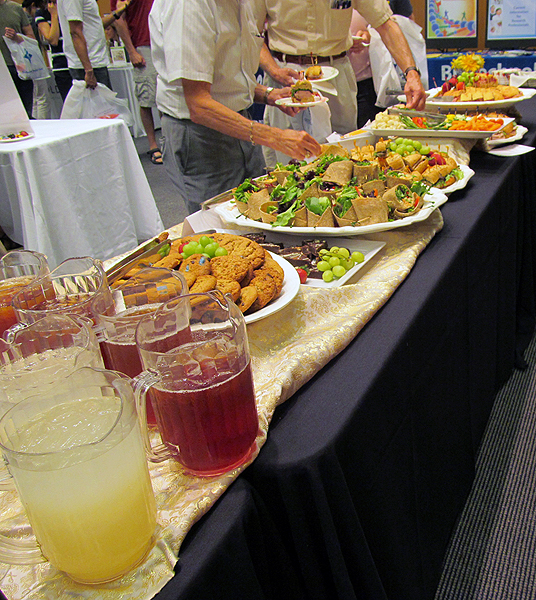 Join us!